Consumer Compliance Outlook > 2020 > Second Issue 2020
Consumer Compliance Outlook: Second Issue 2020
Compliance Spotlight: E-Sign Act and the COVID-19 Pandemic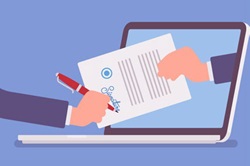 To protect their customers and employees during the COVID-19 pandemic, many financial institutions are encouraging their customers to conduct transactions electronically. In addition, many state and local government authorities have issued orders asking residents to practice social distancing and shelter-in-place, and to close businesses other than those that are considered essential services. While banks are considered an essential service, many consumers may prefer conducting transactions electronically to reduce the risk of becoming infected. Moreover, the Federal Financial Institutions Examination Council recently issued the "Interagency Statement on Pandemic Planning,"1 which suggests that institutions consider "encouraging customers to use online or telephone banking services, ATMs and drive-up windows."
From a consumer compliance perspective, this potential increase in electronic transactions highlights the importance of financial institutions' obligations under the Electronic Signatures in Global and National Commerce Act (E-Sign Act).2 Under the E-Sign Act, electronic signatures, documents, and records for transactions have the same validity as written signatures and printed documents, provided certain requirements are met. The E-Sign Act also preempts state laws to the contrary.
Before information related to a consumer transaction that is required to be in writing can be provided electronically, the E-Sign Act requires that a six-step consumer consent process be completed. Outlook reviewed the six-step process in a 2009 article, and we encourage financial institutions to review the requirements discussed in the article and test their systems for compliance.3
Institutions should note that the E-Sign Act does not apply to certain notices, including any notice of default, acceleration, repossession, foreclosure, eviction, or the right to cure for a mortgage or lease of an individual's primary residence.4
Finally, to the extent state law may apply (for example, addressing whether notarized signatures can be provided electronically), financial institutions should review applicable state law.
ENDNOTES
1 See the Federal Financial Institutions Examination Council's "Interagency Statement on Pandemic Planning," March 6, 2020.
2 See 15 U.S.C. §7001 et seq.
3 Jeffrey Paul and Gary Louis, "Moving from Paper to Electronics: Consumer Compliance Under the E-Sign Act," Consumer Compliance Outlook, Fourth Quarter 2009.
4 See 15 U.S.C. §7003(b)(2)(B).